Kids smart watch manufacturer
Kids smart watch manufacturer
With the upsurge of intelligence coming, the safety, function and education of children smart watch are more and more favored by children. According to the overall market development trend of children's watches, our company has developed several different types of smart watch for children, which are as follows.Children learning puzzle smart watch. Their appearance is similar to vtech's children's smartwatch. And compare with it, our kids smart watch cost performance is relatively high.


The main functions include taking photos, recording videos, time teaching, and puzzles and motion sensing game and so on. This type of children smart watch, not only has some interesting functions for kids to play, but also can communicate with other children to enhance the relationship between them. For parents, they can exercise their children's logical thinking ability, hands-on operation ability and hand-eye coordination ability during the brain development period, develop some good living habits, and also reduce the harm of children's early exposure to mobile games. Therefore, these children learn the puzzle watch is a good birthday gift.
W6 Kids Education Smart Watch
1.1.44" IPS touch screen
2.Resolution: 128*128, JPEG (one camera)
3.20 amazing clock face ( 6 digital and 14 analog )
4.Strap : Silicone; Exterior : ABS Plastic
5.Memory: Within 3000 photos or 15 minutes video
6.Can support upload, not support download
7.Build in Speaker
8.Battery : 400MAH lithium ion battery(Full charge for 2-3 hours, continuous use for 3-4 hours
9.Each set incl: Watch x 1, USB cableX1, Manual x 1, Color box x 1
Functions:
1.Take photos
2.Video Record
3.Photo album
4.Video gallery
5.Voice record
7.Build-in 7 games
8.Time master: learning how to tell time
9.Alarm
10.Timer
11.Stopwatch
12.Clock face
13.Calculator
14.Calendar
15.Background (8 pcs)
16.Watch faces:20
17.Settings: Volume, Brihtness, Brightness time, Date, Time, Parental control, Settings: Storage location, Language(English/French/Spanish/Japanese/Italian/German) , Factory reset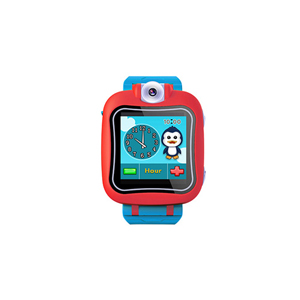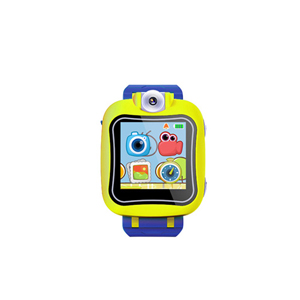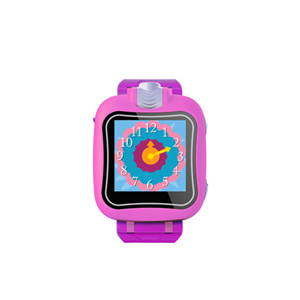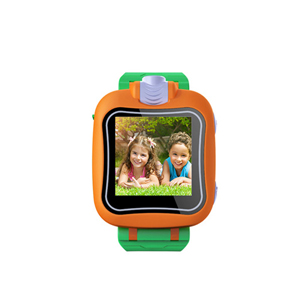 W11X Custom Kids Smart Watch
1.1.54" IPS HD touch screen
2.Resolution: 240*240, JPEG (Dual camera,front/rear 0.1MP)
3.36 amazing clock face (18 digital and 18 analog )
4.Strap: Silicone; Exterior : ABS Plastic
5.Memory: Within 5000 photos or 50 minutes video (can expand the TF card 8G (4G is recommended)
6.Can support upload and download
7.Build in Speaker
8.Battery: 400MAH lithium ion battery (Size 40 * 30 * 35 mm)(Full charge for 2-3 hours, continuous use for 3-4 hours
9.Dial interface shortcuts: Time telling, alarm clock, Sound Mode and music
10.Parental Control:
11.Learn reminders and drink reminders
12.Low Battery Indicator: Charging prompts when the battery is at 30% left , When the battery is down to 10%, you can only tell the time and not use other functions
Functions:
1.Take photos
2.Video Record
3.Photo album
4.Video gallery
5.Voice record
6.Pedometer
7.Music player
8.Build-in 9 games
9.Time master: learning how to tell time
10.Alarm
11.Timer
12.Stopwatch
13.Torch
14.Calculator
15.Calendar(12 pcs)
16.Background (8 pcs)
17.Watch faces:36
18.Settings: Volume, Brihtness, Brightness time, Date, Time, Parental control, Settings: Storage location, Factory reset
19.Language: English/French/Spanish/Portuguese/Japanese/Italian/German/Russian/Hebrew
20.Each set incl. Watch x 1, USB Cable x 1, Manual x 1.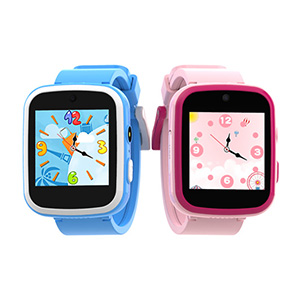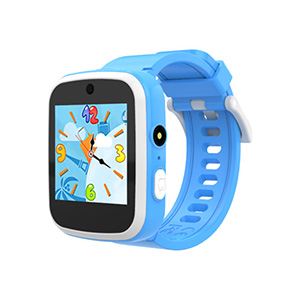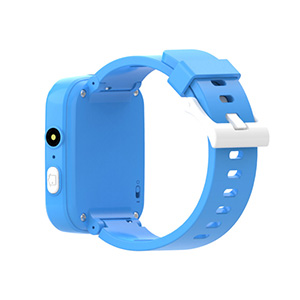 W20C Phone Smart Watch for Children
1.1.44" TN touch screen, Resolution: 128*128
2.Body Material: ABS plastic, Strap: silicone
3.Built-in Memory: 64MB(can take 45 photos without memory card)
4.Camera:One camera 0.3MP
5.TP Material: OGS
6.Background picture: 5
7.Clock face: 16 pcs(8 clock dials + 8 roman dials)
8.Support picture download
9.Battery: 330MAH lithium ion battery(Size:40*25*35MM)
Functions:
1.Calling
2.Phone book
3.Call records
4.Take photos
5.Photo album,
6.Music player
7.Voice record
8.Build-in 5 games
9.Alarm
10.Countdown
11.Stopwatch
12.Background (5 pcs)
13.Torch
14.Calculator
15.Calendar
16.Watch faces: 16 pcs
17.Set: Volume, Brihtness, Brightness time, Date, Time, Settings: Storage location, Factory reset
18.Language: English/French/Spanish/German/Hebrew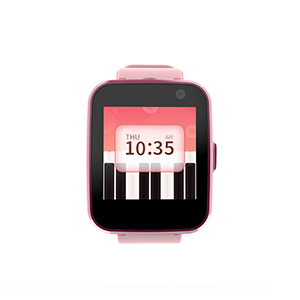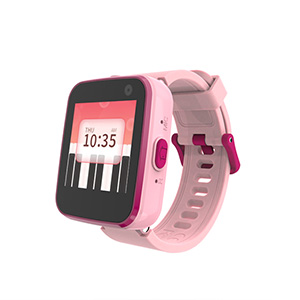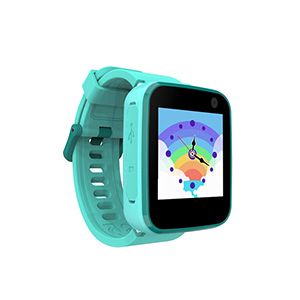 W20X Children Smart Watch
1.1.44" IPS touch screen, Resolution: 128*128
2.Body Material: ABS plastic. Strap: silicone
3.Watch running memory + storage memory: 32MB+ 32MB, accounting for the program left 262KB(can take 45 photos without memory card)+ 128mb sd card
4.Camera: One camera 0.1MP
5.TP Material: OGS
6.Background picture: 5
7.Clock face: 16(8 clock dials + 8 roman dials)
8.Support picture download
9.Battery: 330MAH lithium ion battery (Size: 40*25*35MM)
Functions:
1.Take photos
2.Music player
3.Voice record
4.Photo album
5.Build-in 7 games
7.Torch
8.Alarm
9.Watch faces:16
10.Timer
11.Stopwatch
12.Time Master
13.Calendar
14.Calculator
15.Background (5 pcs)
16.Settings: Sound, Brightness, Time(12-hour/24-hour)/Date, Brightness time, Factory Reset;,Storage location
17.Language: English, France, Spanish, German, Hebrew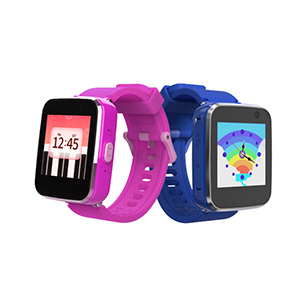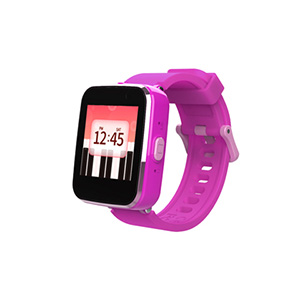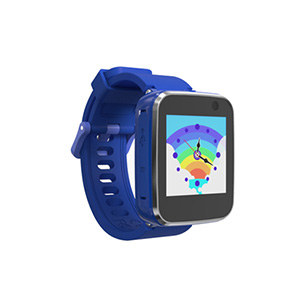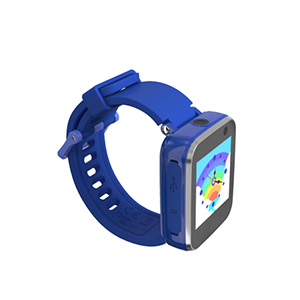 W22 Custom Kids Smart Watch
1.1.54 inch screen, Resolution: 240*240
2.Body material =ABS, Watchband material = TPU
3.Memory: memory can take 5000 photos or 50 minutes of video recording. (can expand the TF card 8G (4G is recommended)
4.Camera: dual cameras, 0.3MP
5.Touch TP material: OGS
6.Battery: 500 mAh lithium battery(fully charged for 2-3 hours, continuous use for 3-4 hours)
7.USB charging port: magnetic absorbing charging cable
8.Shortcuts:sound, alarm clock, time master and music player
Function:
1.Take photos
2.Video
3.Custom dial Dial interface(46)
4.Album
5.Recording
6.Music Player
7.Pedometer
8.Torch and money detector (Kaleidoscope icon)
9.Koala pet (6 facial movements)
10.Musical Instrument Sensory Games (9)
11.Sports Sensory Games (9)
12.Games (9)
13.Time Master
14.Alarm clock
15.Stopwatch
16.Countdown
17.Calendar
18.Calculator
19.Background (8)+Switch between four grids/one grids
20.Set ( Sound adjustment, Backlight brightness, Lock screen setting, Set date, Set time, Remind, Parent control, More: Storage location )
21.Language: English/French/Spanish/Portuguese/Japanese/Italian/German/Russian/Hebrew
22.Factory reset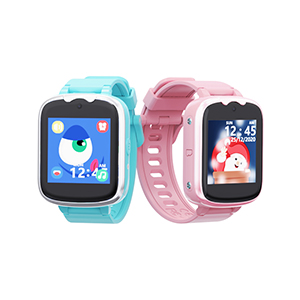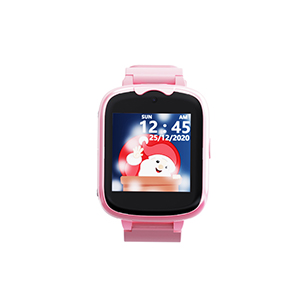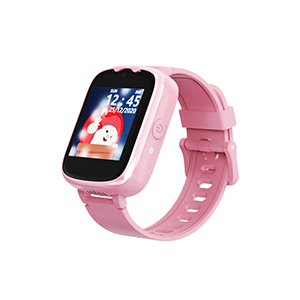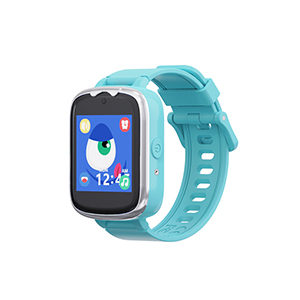 What They Have in Common:
Taking photo. Children can not only take pictures of the distant scenery, but also take selfies with their friends to record the details of their lives.

Interesting watch faces. There are many cartoon digital and analog watch faces, children can change the watch face of the children smart watch interface at will.

Time teacher, alarm clock, stopwatch, countdown functions. They can develop children's sense of time, and cultivate some good time management habits.

Games with a number of puzzle games, children can exercising their hand-eye coordination ability, logical ability with playing.

Parents control. Parents can set a safe time for children to play games in the watch to prevent addiction.

Music player. All of these have the ability to play music, and children can download more music to store on the watch to develop their own sense of music.

Languages. These products are available in english, italian, hebrew etc., which can meet the needs of different language countries and also support language customization.
In Addition, the Four Learning Smart Watches Differ in the Following Aspects:


Screen. This children's watch of W6 uses a 1.44 inch ips color touch screen, and it has two operation buttons, one is the on-off button, the other is the home button. Other models of kids smart watches use a 1.54 inch tft color touch screen and only have a home button. Their screen touch is very sensitive, and the operation is relatively easy, children can explore and master the operation.
Camera. W20X has only one camera; the W6 has a 90° rotatable camera, and the W11X and W22 children's smartwatch have two cameras that can not only take long shots, but also take selfies.

Flashlight.W6 does not have a flashlight, while W11X, W20X and W22 all have flashlights, so children do not need to worry in the dark environment.

Shortcut icon. W11X and W22 will have this function on the watch face. Touch the watch and the cute function icon will appear, which is convenient and interesting.

Support sd card. W6, W11X and W22 these smart watch for kids, they are not able to support the sd extension; and W20X smart watch can support sd card, so children can download some music on the sd card.

Protective case. W22, a children's smartwatch, is designed with some waterproof protective covers, so children can take pictures underwater with it. And the other three watches are only daily waterproof, can not be used in water.

This type of children's watch is very lovely, and the function is also very rich, can meet the needs of children, children can also develop some small habits, favored by children.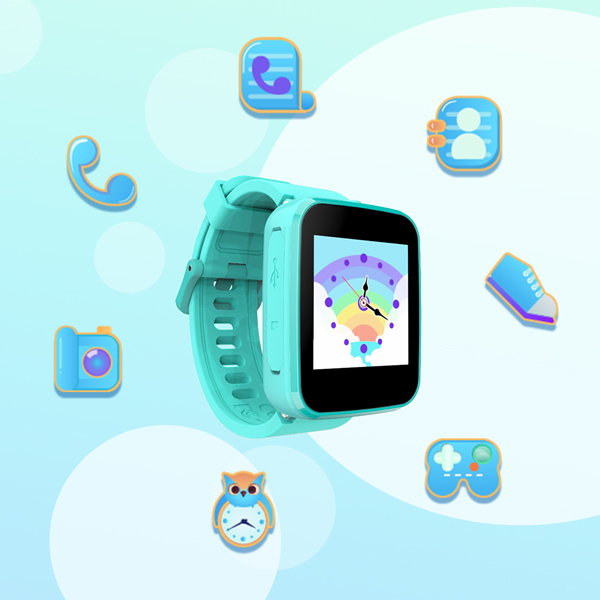 Children's phone watches. Have sos, phone, puzzle games, calendar and other functions. While playing happily, children can also keep a close contact with their parents, which ensures the safety of children and enables them to grow up safely and healthily.


This phone smart watch is mainly in lake green and pink, and its appearance is also very cartoon, which can attract the eyes of children at first sight. Next, let's see what it does:
It uses a 1.54 inch ips touch screen. The light reflected from the watch screen is soft and will not harm children's eyes.

Support two-way call function, children by their parents to send contact phone call and answering the telephone, and supported by the 2 g network, because the child is the ultimate user experience, so we watch all is to use 2 g network, if subsequent investigation demand, customers have a demand on 4 g networks, then we will they upgrade to support 4g network;

Sos call and monitoring functions. When children are in danger, they can press the sos button to ask their parents or friends for help.
There is a 30w pixel camera, the photos are very clear, and there is no need to worry about the memory shortage, because it can also support tf card, so that children can be a small photographer, shooting the beautiful moments in life at will;

Has some puzzle features. 5 puzzle games calculator and music player. They can not only bring joy to children, but also exercise their thinking ability, language ability and logical ability, achieving a kind of edutainment effect.
A small watch is not only a good gift for children, but also a good partner to accompany the happy growth of children.
Children's walkie talkie smart watches. In addition to having a photo, time teaching, puzzle games, calculator and so on, there is a unique intercom function. This is to build a bond of interaction between parents and children, and between children and their friends, which is conducive to promoting children's communication with the people around them.

This walkie talkie smartwatch for children is very cute in appearance and very popular with children. It is also very simple to operate. In addition, its functions are also very rich, including:1.44 inch ips touch screen, the operation is very simple, using very environmentally friendly materials.With more than 20 cartoon watch face, time teacher, alarm clock and other functions, can help children learn and develop time management ability, develop a good habit;
It has a rotating 90-degree camera, which can clearly shoot and record the beautiful scenery of life, and the pictures can be downloaded via usb cable and saved on other devices (such as computers).

Other puzzle functions. There is a voice interaction with the children's mr. Hippo, 3 puzzle games, music. Through these interesting functions to improve the children's language ability, logical ability and hands-on ability.

Intercom function. It can be matched with the intercom equipment of the same frequency within 200m to serve as the game partner for children's outdoor activities, and also serve as the communication equipment in some places with no signal or weak signal.
It can interact with a talkback pen and a talkback doll at the same frequency to give children more choices and experience more social fun.
This is not only a watch, but also a mini walkie-talkie, such a good product, worthy of children's own, but also worthy of parents for their children to buy, is a good birthday, christmas gift.
Brand
Our kids smart watches brand is wowatch. All models are supported OEM & ODM, customers can customize their brands on touch panel, strap, casing and color box.


Order Process
When customer confirm the sample, engineer will sign the material sample according to the confirmed sample, and then the purchasing department arranges to purchase the materials. After the materials are ready, our iqc will inspect the materials according to the international standards. The production department get the materials from the warehouse for production as the order.
Step 1
Project office

Make the sample as the requirment
Step 2
Quality department

Test the sample
Step 3
Business department

Confrim the sample with customer

Working Principle
Firstly, the software program of the watch as well as the program of the tp touch screen are burned within the watch and turned-on via a switch. This switch is the control for the power / the power-switch. Lastly, the main program software is programmed into the cpu which controls the data, and this data is transmitted to each above-mentioned terminal (the software program and tp touch screen) to start the functioning.

Product Main Parts
A. PCBA(Including CPU, Storage)
B. 1.54/1.44 Inch IPS Screen
G. 310/400 mAh Rechargeable Lithium Polymer Battery
J. Antenna (walkie talkie watch)
K. SIM card slot and SD card slot
L. USB Cable (With Power Supply and Download Functions)
Production Process and Technology for Game Time Watch
A. Material Acquisition and Pre-production
The first step is purchasing the materials we will need to make the manual, the plastic elements of the smart watch, the usb cable, the silicone strap, and the packaging boxes. We ensure these are all in strict accordance with every environmental standard by purchasing from trusted suppliers we can rely on to sell us quality materials. Once we have everything needed we transfer these purchased materials to the quality control (qc) department for inspection of all incoming materials. Everything is looked at from the manual which is examined to be sure the product directions are correct to the packaging box, so as to know it is not easily ripped or damaged. The camera is closely looked at too so that we can be sure it will work effectively. Our qc department makes sure everything meets our high standards and anything judged to be below our desired level of quality is not placed on the production line. Only once qc has examined something and approved it will it move to the production department.


B. Main Production Process
Abs plastic case: Once the color has been selected for the watch case according to the international color number, the abs material is prepared and then poured within the injection molding machine with a watch mold in place. It dissolves at a high temperature and forms the needed mold. After between 2 and 3 hours the indicator light of the injection molding machine will activate, thereby indicating that the case of the watch has been successfully produced and needs to be removed from the machine. This temperature of the watch shell is generally very high, so it needs to be cooled within cold water to make sure the shape of the case is permanent. Once cooling is done, the case's trim is cut and smoothed to be sure no sharp edges are present which could scratch children.

Pcba board: First, the purchased motherboard (which qc has inspected) is sent to the smt department where the placement machine attaches the needed small electronic materials and can fix them via a reflow oven. Then the game machine's brain/ ic is inserted via solid crystal machine fixing. The binding machine proceeds to enter the function of the game console and the test rack is used to test the board's game functions. If there is a defect found these are removed to be repaired. Finally, the ic is sealed with a black glue and then placed within the oven for high temperature fixing to protect the chip inside. With this process done the worker plugs the plug into the pcba and the plug is then hardened and affixed in a furnace at temperatures of up to 260-300 degrees. After this it goes to the cutting area to cut off any leftover material on the plug-in and then the pcba is polished through the automatic tin stove. To complete the process, the microphone is welded on.

Burn program: The "burn program," Refers to how we input the function of the watch into the pcba board, e.g. We "burn" The watch tp program and software program.

Inspection of the pcba board: The proper functioning of the pcba board is tested by the test stand. During this test all workers doing it must carry an electrostatic bracelet, so as to reduce the influence of static electricity on the electronics inside the watch. When no problem is detected with the assembly unit is put into the process and if there is a problem the maintenance department is called-upon to inspect what maintenance may be needed.
C. Assembly
Internal assembly: After all the front materials are read the camera is mounted on the casing card and pressed in tightly. Then the double-sided tape is attached to the pcba board, with the display soldered on as well as the camera being soldered on. After the welding, the display of the watch is tested to ensure the screen works and in responsive. Should the screen not work it is repaired. The pcba board is then assembled into the shell and the battery is soldered in. Following this the touch-screen is assembled and more double-sided tape is attached to each screw post followed by the charging test being conducted. At this point the internal assembly of the watch is completed.

External assembly: First the buckle is put into the strap and then put into the bottom shell on the silicone strap, followed the shell of the front and rear cabinets, screwed-in, and the capacitive touch screen is attached (which requires an ion fan to remove dust). Next, a series of tests are carried out.: The charge aging test, the finished product test, the usb line storage test, and so forth. During these tests should any defects occur in a product it will be picked-out of the line for repair. Finally, a product that is deemed to meet our standards and be free of any defect has a protective film attached to protect the screen.
D. Packaging
The assembled smart watch which has been completed in the production department is sent to the packaging department for the final steps. The workers in the packaging department will check the appearance of the smart watch to ensure it is correct before they put it into a blister box. The blister box itself is made of PVC material which holds the weight of the smart watch very well. Next the manual and environmental card is put into the box, which is then sealed. The final sealing and warehousing is then carried out after everything else!
Color
These children's smartwatches, there are pink and purple for girls, blue and army green for lively boys and so on. At the same time, we can also support the customization of different colors according to the customer's color requirements. Because our target consumer group is children, the use of pink, blue and other natural bright colors, can attract children's attention, improve their ability to focus on things, help them quickly recognize the watch, learn to use the functions of children's watch.
Product Packing
For different sales channels of buyers, we design two kinds of packing boxes for the kids puzzle smartwatch, such as the skylight color box and the gift box.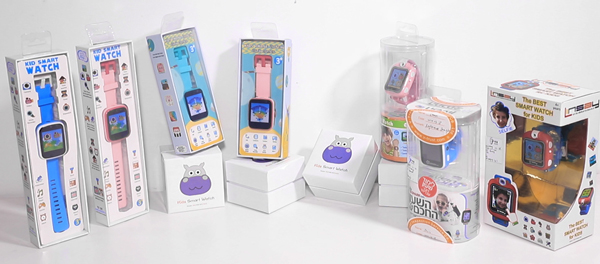 The skylight color box is larger than the gift box, and the consumers can directly see the children smart watch, and it also has a hook to hang from the wall. The type of the skylight color box is mainly sold in the large supermarkets, like Wal-Mart, Lidi…Consumers can not only see the color and shape of the watch at a glance, stimulate their desire to purchase.
And the gift box is more suitable for online buyers, such as Amazon, eBay and so on. First of all, Its Small Size Reduces the Area Occupied by Boxes and Reduces the Freight Cost of Online Sellers. In addition, the gift box is very beautiful, and the buyers can put into other matching small accessories, When consumers buy the gift box and take it into their hands, it will bring them the pleasure of unpacking the "blind box".
Product Certificate and Test Reports
This Kids Game Watch Has Passed CE,ROHS, EMC, ASTM, CPC, CPSIA…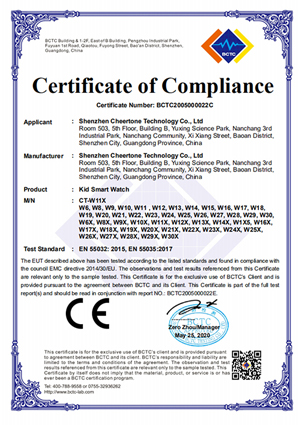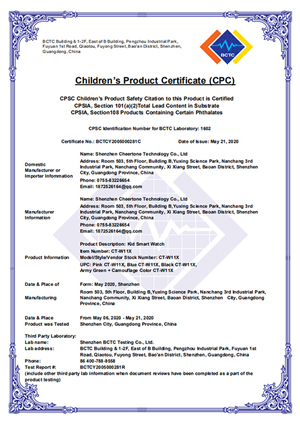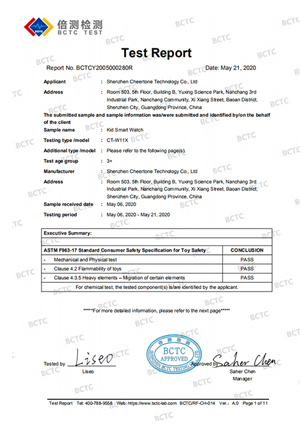 Lead Time
Sample or Trial Order ( Has Stock): 3-7 Working Days

OEM & ODM Bulk Order: 30-45 Working Days After Pre-production Sample Confirmed
Shipping
By Air or International Express: DHL, UPS, Fedex, TNT …

By Sea

By Train or by Truck

Multimodal Transport
Warranty
Our watch toy kids warranty period is 1 year. During the warranty period if there is a quality problem (non-artificial factors), need to provide product pictures and video for our after-sales service team, engineering department according to the buyer provided photos and video analysis, judged bad machine product quality problems, we will offer free repair or exchange new product for the buyers.
Message
If you have any suggestions or question for us.Please contact us.