By CheerTone |
06
June 2023 |
0
Comments
How to Complete a German Standard Order
Introduction to the Process:
Children's electronic toys can have different standards and requirements in different countries. These can vary in how strict they are. For example, there are international standards: ISO 8121, IEC63115, There also are European regulations: EN71, EN50088, EN62115. China: GB6675, GB 19865, GB 5296, and GB9832. Plus there is Australia: AS, NZS, ISO 8124. Not to mention Canada: CRCC, C.931, RSC985 from H-3 and the USA: CPSIA, ASTM, F963. Also, there is Japan: ST2002, etc.
Although the EU has its own general European regulations, different countries still have their own various requirements as well. For example, relatively speaking our supermarket customers in Germany can be particular with the kinds of orders they place.
During the past few months when we have completed a typical German standard order we have encountered certain problems. As a company with 15 years of foreign trade experience, how did we meet these problems and handle them? We believe that by sharing about the issues we have faced and the proper way everything was taken care of by us we can showcase our ability to make high-quality plans when needed if a problem occurs, and how we learn from these issues to avoid future problems with orders. Hopefully, this information will help serve a reference to our importers so they can avoid encountering any issues themselves as well!

1.Confirm the Order
Keywords: Legal, German Rhine Standard, Certification
In the second half of 2018, we began negotiating a project that included three game consoles: The CT-882B (mini arcade machine), CT-885 (vertical screen handheld game console) and CT883 (horizontal handheld game console). A prerequisite for this project was that the built-in 200 games needed to be legal. Our three game consoles met this standard.
Our factory has BSCI certification and in addition to this there were the following certifications that had to be carried out in accordance with the standards of German Rhine:
All bare metal had to pass the following tests: EMC, EN71, PAHS, 7P, EN2115, and EN60825.
The sticker/color box test for each item was covered via RoHs, Reach, and PASH.
All plastic, PET materials, and stickers were required to have a UL and a burning grade certificate.
These standards are actually very strict for the children's electronic toy industry. However, as our company's main sales markets are European and American countries our product certification and factory certifications were already numerous. As a company with 15 years of experience we would have the confidence to meet the above order requirements, so that order was confirmed.

2.Confirm the Software
Keywords: 200 in one, legal games, no repeating, expandable memory

From the beginning, the initial agreement stipulated that with the games there could be no repeating, but it was already for games to at times be similar. Generally, it is very normal within this market that some games are repeated or similar with an all-in-1 game console. In addition to the CT-882B mini arcade machine with non-repetitive 200-in-1 games, but the other two customized gaming consoles had a few similar games. Later on, the German merchants asked us to make the three game consoles all be true 200 games in 1 consoles. This was understandable as we knew that our German customers were famous for their rigorous attention to detail, so we began to modify our software according to these customer's requirements so as to achieve a true 200 games in 1-styled console.
Some people may think that modifying gaming software means it just takes a software engineer making small adjustments to a program. However, when the actual software modification process is undertaken it can quickly be found it is not that simple.
In an already-completed game program, there is much that has to be considered when you go to modify or replace a game. You need to throughout consider whether the changes in a game's memory size will fit with the original motherboard memory size, if the format of the replace game is compatible with the game console itself, and more! Those are just two big potential problems, and even a small error in the planning can result in a failure of operation, with the device not working normally anymore.
It is now clear that should someone want similar games screened-out how that is not done by machine equipment. Instead, a salesperson who understands the customer's needs has to write-out the revised manuscripts of what the customer desires, at which point the engineering department can evaluate and test these requests. During this period both the patience and professionalism of a salesperson is tested as well as the engineer's technology! This repeated testing can unfortunately also take a lot of time–not a good issue to have during the peak season.
Another difficult issue that can occur is when the memory size of the modified or replace game exceeds the original memory capacity. Therefore, in our situation where we needed to achieve a true 200 in 1 games we had to repaint a board, recreate a mainboard with larger memory available, and consider the compatibility of the games with the mainboard.
The following are the details of all the tests:

3.Certification
Keywords: EMC, EN71, PAHS, 7P, EN2115, EN60825
In a bit over a week, the required certificates had mostly been completed. However, there was an issue in that an EMC project could not past the test and this needed to be rectified for the game console.
EMC is required to have its own immunity (EMS) and not interfere with other equipment (EMI).


EMS tests are divided into the following five kinds:
1. Electro-static discharge (ESD)
2. Electromagnetic field immunity (RS) Electromagnetic compatibility Rad
3. Transient and transient/pulse group rewind resistance (EFT) electrical fast transient
4. Sure lightning resistance winding (CS)
5. Voltage DIP and short interruption immunity (DIP)


Additional EMI test items include:
1. Harmonic Current
2. Flicker
3. Conducted harassment (CE)
4. Radiation harassment (RE)
Radiation disturbances (RE) in these items did not pass the necessary test. We rectified this by following the schematics provided by the inspection agency.
To correct the radiation concerns of engineers utilized the corrective plan given to them by the SGS inspection agency. First, they added copper foil paper to the radiation interference source and this allowed them to test whether it could pass the requirements. They were able to determine how any failed tests would mean additional components were needed by testing everything one-by-one. The last components of the three game consoles to be worked-on were the capacitor type 104P filter and capacitor 1UF common-mode device, then PVC lenses were added.
By applying the above fixes the EMC's radiation interference test was successfully passed and large quantities of products could be scheduled.


4.About the Three Inspections of TÜV Rheinland
Keywords: 0% of the inspection, the 20% test, 100% inspection
What is 0% inspection? It is when all of the trial materials have been prepared and are inspected at the start before the trial production begins. We had prepared 50 sets of bare metal machines for inspection by the inspectors of the Rhineland Inspection Agency. In addition, we also needed to prepare all of the parts of the three game consoles. This included stickers. We sent 20g per materials to Shanghai Rhine for chemical inspection.
The 0% Test: The results of the 0% test were not ideal. The Phthalates in the sticker test did not pass the test due to exceeding the standard a little. Our stickers are always made of commercially available materials with reliable and complete certificates so it was very difficult to analyze why the Phthalates may have exceeded the standard. Finally, through troubleshooting, we determined there was an ink problem causing the issue. This was because the color of each batch of sticker inks was different, resulting in the materials that were used at times being different. To correct this we utilized imported ink to print the stickers and finally passed the test.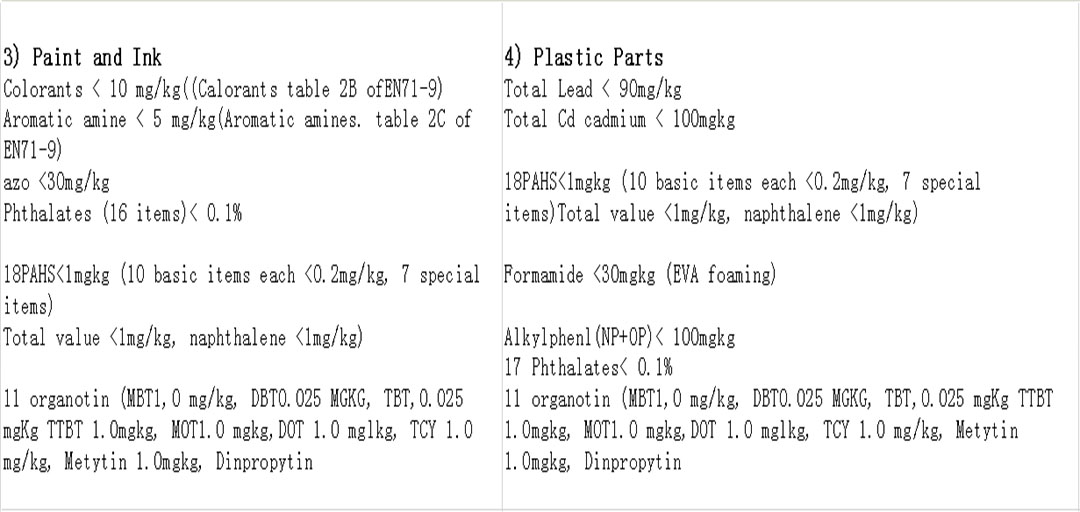 The 20% Test: This number refers to inspections that are carried out when the whole planned batch of large-scale production process is 20% complete all the way to how the products are packed with color boxes and cartons, The main difficulty of a 20% inspection, in this case, was packaging as our order had nine kinds of boxes and nine manuals. Therefore, we had three kinds of consoles mixed in 1 carton and individual ones as well. Not only was the preparation of this material complicated, but the cost was also high as well. This made it potentially easy to make mistakes during production.

In order to arrange production and packaging so it went smoothly, the business department made a clear mind-map which assisted with production according to the contract order. This greatly reduced the error rate.
The picture above contains the full details of the packaging process, such as the package arrangement so as to prevent things from going wrong. Over 900 boxes (6 per box) were packed and the required amount of 20% was reached, followed by the successful carrying-out of the 20% test.
The 100% Test: After the 20% test inspection results came-out and were evaluated we started to produce all of the remaining goods. We collected the stiker UL and PVC lens UL and then our customer sent the inspector to inspect all of the goods. After this, our product could be released without any issue.

5.Shipment
We directly arrange FCL shipments instead of LCL shipments because the delivery period needs to be done in haste and this reduces the time it takes for goods to get to the customer side. By doing this we greatly shorten the time of shipment. Because in this situation the customer was a supermarket, the box was particularly small. As was mentioned earlier, we had nine kinds of boxes and these different boxes were sent to different individual locations, so it was key to be very careful when loading products.
While carefully handling the loading we developed a series of emergency plans and methods. For example, what employees need to do if two boxes are confused when different ones are being installed upon the trucks. Also, treatment measures exist so that even if uncontrollable minor problems arise in the loading process they can be handled in short-time and the shipping process moves along smoothly.



The difficult aspects of the order included how we needed to modify the software, get physical recertification, the high certification standards, and the complexity in the variety of packaging. We had to engage in Rheinland inspection three times, which took an extensive period of time. After any test results would come-out we would then do the next steps needed until the process was finally complete. All of these things tested the internal cooperation of our suppliers, the degree of cooperation between our own company and suppliers, and the technical proficiency and standardization of our company. However, even when faced with these tests we were always able to find and carry-out excellent solutions!
Leave a Reply
Your email address will not be published.Required fields are marked. *